The Newark News Article about the R.E.S.I.S.T.O.R.S.

Return to the R.E.S.I.S.T.O.R.S. home page
Newark [NJ] Sunday News, May 28, 1967: Computer Teaching Students
Barn in Hopewell Twp. Is Their Classroom
By Albert M. Skea
It's a barn, a museum, a discotheque theatre -- and a computer center.
And the barn is also the workshop of the RESISTORS -- Radically Emphatic Students Involved in Scientific Technology Or Research Studies.
The barn stands hear the farmhouse of Claude Kagan in Hopewell Township. He is a research leader in the Western Electric Engineering Research Center, Princeton.
In the barn, Kagan stores a collection of communications and data processing equipment of historic interest or significance.
One such item is a noneton Datatron computer which originally cost half a million dollars. It was given to Kagan by Burroughs Co. after it had been found outmoded by ITT Laboratories in Nutley.
Like TV Props
The computer operating console will appear familiar to many TV fans -- identical consoles appear in Batman, Time Tunnel and Lost in Space.

The RESISTORS, all students at Hopewell Valley Central High School, however, are not engaged in fantasy. Rather, they are learning to solve problems.

The club is also weeking after-school computer assignments.

For example, members have proposed to the nearby Educational Testing Service, which prepares and rates college board tests, that it commission the club to work up a computer program for scientifically matching college applicants with the most suitable college of choice.
Dress Selection
Another service proposed -- possibly in the Washington area where the social calendar is heavy -- is to computer-assist women in selecting just the right dress for the occasion.
The computer would consider such questions as: What dress did I wear to the same party last year? Who was there? What did they wear? What is likely to be work this time?
Presumably the computer, operating at the speed of light, might tap out an answer such as: "Pick Out Dress No. 6."
The boys, ranging in age from 15 to 17, are very serious about this and other computer work. They have applied for a trade mark for the dress selection service.
Drives Truck, Too
While the computer was obtained without cost, Kagan had to learn how to drive a rented tractor-trailer to bring the equipment from Detroit to New Jersey.
The computer was designed about 1950 but, with its vacuum tubes, quickly became obsolete when transistorized computers came on the market.
The computer is on the first floor of a barn, surrounded by shelves and tables holding the museum items collected by Kagan, ...
Each club member has an assignment. Christopher Brigham, 16, is data processing director. He is a junior in high school.
Other assignments are: Programmers, Charles Ehrlich, 16; Mark Grossman, 15; Douglas Timble, 17; William Weasner, 17; and James Yost, 17; technicians, William Lang 18, and Steven Mraz, 17, and comptroller-technician, Robert Skillman, 16.
The club has four candidate-members. They are Martin Brigham and Steve Payne, each 13; Michael Mraz, 14, and Andrew Walker, 17.
While proud of their computer work, the boys also enjoy showing off their gaily decorated discotheque theatre above the museum-workshop.
[Article courtesy of Chris Brigham. Click here for larger JPEG image.]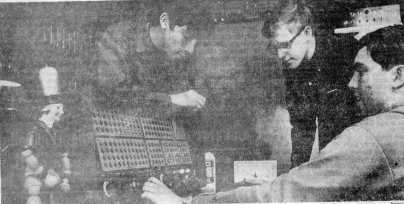 FLASHING LIGHTS: Three members of the Resistors, from left, Mark Grossman, Charles Erhlich, and Robert Skillman, gather around console of Datatron computer.
[Photo courtesy of Chris Brigham. Click here for larger JPEG image. One piece of text is missing from the scanned image.]
BARN IS HOME FOR COMPUTER.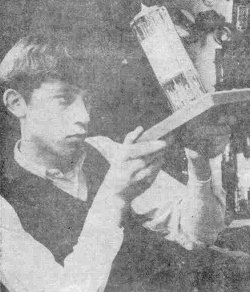 INTENT: Mark Grossman examines computer memory tube developed for late John von Neumann, mathematician at Institute for Advanced Studies.
[Photo courtesy of Chris Brigham. Click here for larger JPEG image.]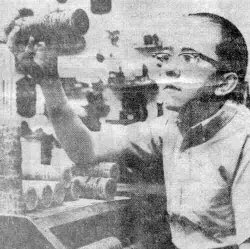 CLOSE LOOK: Andy Walker studies music box roller which "stores" notes through pin arrangements.
[Photo courtesy of Chris Brigham. Click here for larger JPEG image.]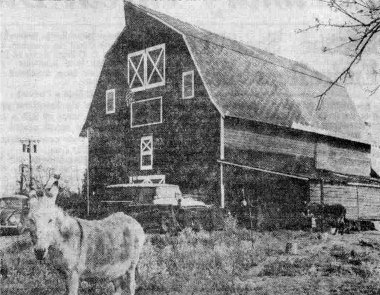 MULTIPURPOSE BUILDING: Barn on farm of Claude Kagan in Hopewell Township contains museum, discotheque theatre and a computer center run by teen-age boys.
[Photo courtesy of Chris Brigham. Click here for larger JPEG image.]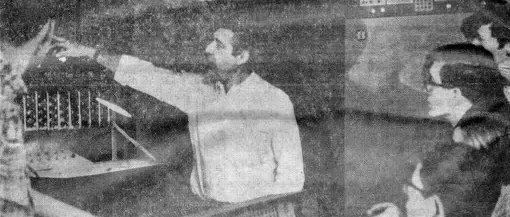 EXPLAINING A PROBLEM: Claude Kagan, a research leader in Western Electric Engineering Research Center Princeton, describes working of computer to group of boys, all students at Hopewell Valley Central High School.
[Photo courtesy of Chris Brigham. Click here for larger JPEG image.]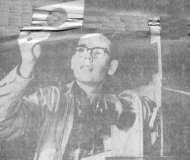 MUSEUM PIECE: Christopher Brigham holds rare three-color slide in wood frame made from painting of Civil War scene. Kerosene projector of about 1860 is nearby.
[Photo courtesy of Chris Brigham. Click here for larger JPEG image.]
---
This page is at http://www.resistors.org/newarknews.html. Last updated 6/4/98 by Margy Levine Young. For information, contact resistors@resistors.org